First and last chance to see wall hanging maps at Wonderwool Wales
A special exhibition of map wall hangings, depicting seven different places around the UK, will be one of the features of this year's Wonderwool Wales, the award-winning show that celebrates all that's great about Welsh wool and natural fibres.
It will be the first and last chance to see all the wall hangings, which celebrate the combined creativity of more than 180 knitters, together in one place
The exhibition has been co-ordinated by Sue Howell, who founded the Knit Your Town Project in response to the immense amount of interest shown in a knitted map of Llandysul, exhibited at Wonderwool Wales 2017.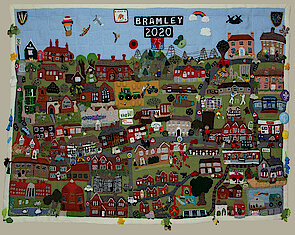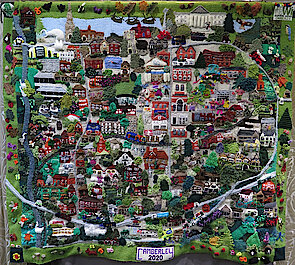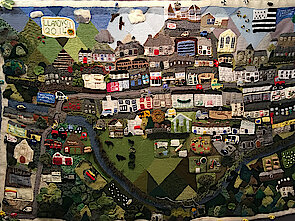 Held at the Royal Welsh Showground in Builth Wells on April 22 and 23, Wonderwool Wales is an annual festival that brings together people and businesses with a passion for Welsh wool and its versatility as a material for creative crafts, designer clothes, home furnishings and more.
The event covers everything from the start to the end of the creative process. Exhibits of sheep, raw and hand dyed fibres, yarn for knitting and crochet, embellishments, equipment, dyes and books can be found alongside superb examples of finished textile art, craft, clothing and home furnishings.
Since the Llandysul map's last appearance at Wonderwool Wales, several maps have been completed and this year there will be a selection on display. Llandysul will be joined by Camberley and Bramley (Hampshire), as well as a commemoration of Queen Elizabeth ll's Platinum Jubilee.
Maps unable to attend are Newbury and Leeds, both of which are now installed in local museums and Painscastle. The organisers hope Wolverhampton may be able to be there but there will be images on display of the missing pieces in any event.
Other projects that have been produced are Greenham Common from the Newbury knitters. This group was asked to produce a piece of artwork for the café in the Greenham Tower in Newbury, Berkshire.
The artwork comprises three panels, representing pre 1900, the Cold War and the Common now, and is on permanent display there.
Another commission was a personal story of Ugandan refugees, 50 years ago, covering the background of their eviction from their home country and their arrival and subsequent lives in the UK. This was part of an exhibition locally and it went on tour to mark the anniversary.
Bramley's map was a lockdown project and a great way to help with the isolation of having to stay at home. Wool was collected and shared via a porch and knitters communicated via email.
The knitters enjoyed being able to meet up at last and begin to place the buildings on the base. This map has been on display at The Vine, a National Trust property at Sherborne St John, near Basingstoke, for several months.
The Bramley knitters then wanted another project and the Queen's Jubilee seemed a suitable topic. The seven decades are represented on separate smaller panels to create memories of the 70 years.
This artwork has been installed at a local care home and residents absolutely love to look at the intricate details, jogging memories of an earlier time.
The majority of these wall hangings are knitted but crochet and even felting has been incorporated. Knitters rely on photos and pictures, which are transposed to paper or grids and patterns made from that.
It is not possible to estimate the amount of wool used or the cost, but they have involved hundreds of hours of dedication and skills.