Virtual Wonderwool Wales 2021
Virtual Wonderwool Wales will be running on facebook on 23rd to 25th April 2021. We have set up a new group for the event so please follow the link to join http://www.facebook.com/groups/wonderwool2021 We have planned a fun packed weekend including virtual studio openings, demonstrations, talks, workshops & lots of things to add to your stash from some of the UK's best suppliers! Emily Cross Ceramics will be hosting a Kiln Opening at 7pm on Friday 23rd April revealing her latest pieces. Saturday & Sunday will be full of wonderful things to add to your stash. There are 4 two hour workshops on zoom on both Saturday & Sunday, the link to purchase tickets will be in our facebook group
9.30am – 11.30am Dorset Button Making with Jen Best from Beaker Button
11.00am – 1.00pm Felted Vessel using multiple resists with Mandy Nash
12.00 noon – 2.00pm Steeking with Anniken Allis of Yarnaddict
2.30pm – 4.30pm Spinning with a Wheel for beginners with Sarah Stacey of Hedgehog Equipment
Tickets are £24.00 per class and the link to purchase them can be found on our Virtual Wonderwool facebook group http://www.facebook.com/groups/wonderwool2021
The Welsh Guilds of Weavers, Spinners & Dyers have put together a programme of online zoom talks and lectures to give you a flavour of the varying interests and areas of knowledge Guild membership allows you to explore.
All the speakers have kindly donated their time. There is no charge to attend the lectures, but we ask that you make a donation to either the Wales Air Ambulance or Macmillan Cancer Support. These charities are usually supported at Wonderwool Wales, and the Guilds and Wonderwool are delighted to be able to raise funds for them in this way.
To see the full programme& obtain tickets please join our Virtual Wonderwool Group at www.facebook.com/groups/wonderwool2021/ where you will find the link.
SATURDAY 24TH APRIL
John Arbon – Mill Tour with question and answer session
Andrew Johnson – Carding for Long Draw Spinning
Helen Melvin (Fiery Felts) – Solar Dyeing, Botanical Inks and Natural Pictures
Penelope Hemingway (The Knitting Genealogist) – Their Darkest Materials
Carmarthen School of Art (Coleg Sir Gar) – Meet the Textile Graduates
SUNDAY 25TH APRIL
John Parkinson (Iinouiio) – Contemporary Textile Recycling
The Braid Society – Meet the Braid Society
Sue Hiley Harris – Some remarkable String Bags
Fran Rushworth – A Dye Plant Garden
Katie Weston – The History of the Textile Trade in Mid-Wales
Jill Shepherd – The Domestication of Craft
ONLINE FLOCK GATHERING - For many years now the Flock Gathering has given people opportunity to catch up on the Saturday evening after the show. This year the Welsh Guilds are hosting an online version. Full details to be revealed on the Virtual Wonderwool facebook Group www.facebook.com/groups/wonderwool2021/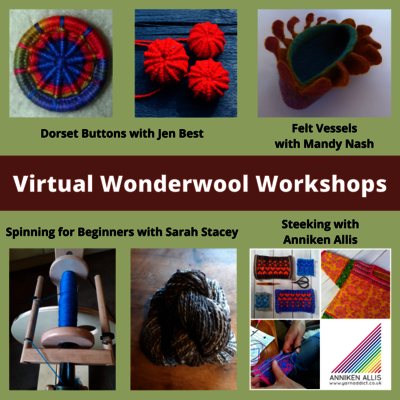 I think you do a fantastic job of organising & running this show. As an exhibitor it runs flawlessly. Love the amount of space for stalls & customers alike, plenty of room to move & browse

Very good food carts outside & good tea & cakes inside

Food & seating brilliant & ladies toilets great

Love the spacious feel of the show

Such a lovely vibe, really helpful crew, everyone happy, great venue & facilities & happy shoppers
Welcome to Wonderwool Wales
Wonderwool Wales is the premier Wool & Natural Fibre Festival in Wales and is held annually on the last weekend in April at the Royal Welsh Showground, Builth Wells, Powys.
First held in 2006 to promote the market for Welsh wool and add value to product for small wool & fibre producers in Wales, the festival celebrates the green credentials of Welsh wool and its versatility as a material for creative crafts, designer clothes, home furnishings and more. Wonderwool Wales has grown year on year. It covers everything from the start to the end of the creative process – from exhibits of sheep, through raw and hand dyed fibres, yarn for knitting & crochet, embellishments, equipment, dyes and books to superb examples of finished textile art, craft, clothing and home furnishings.